WHAT IS INCLUDED
The Advanced iSeaSense Pack includes: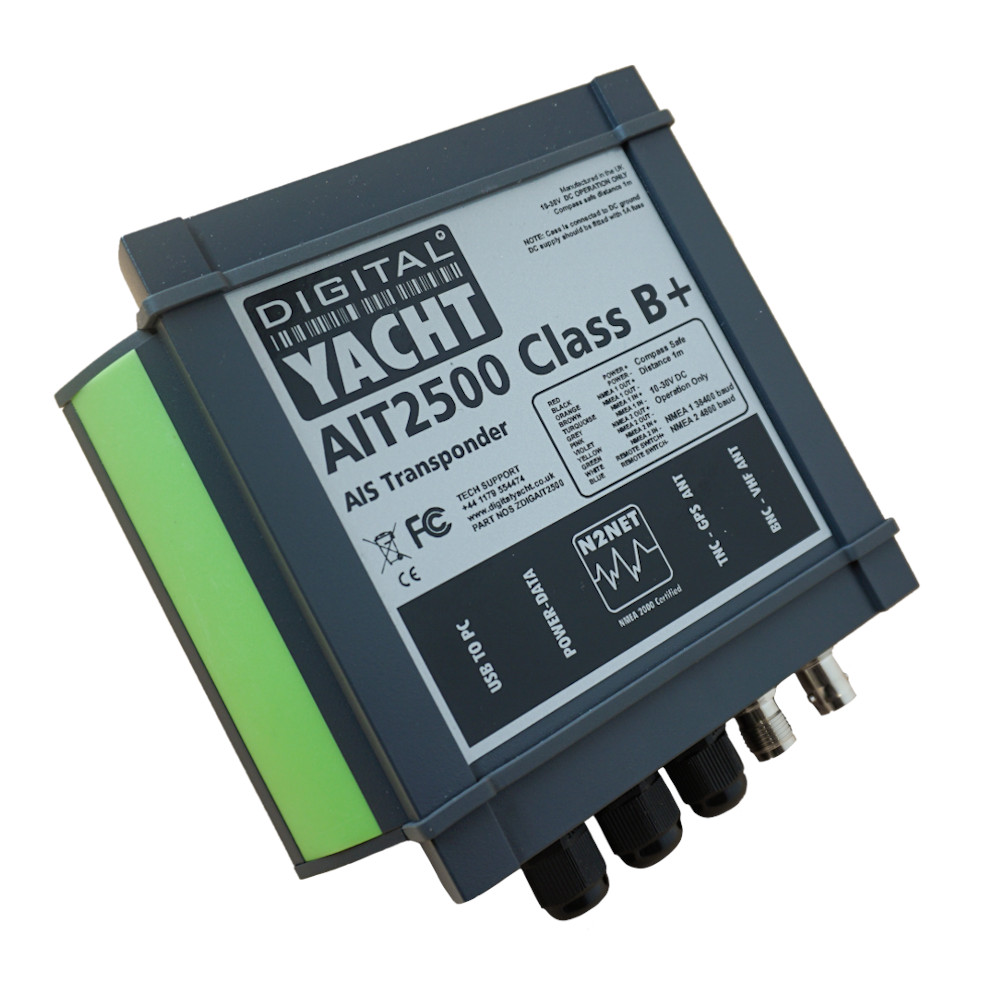 AIT2500 – Class B+ AIS Transponder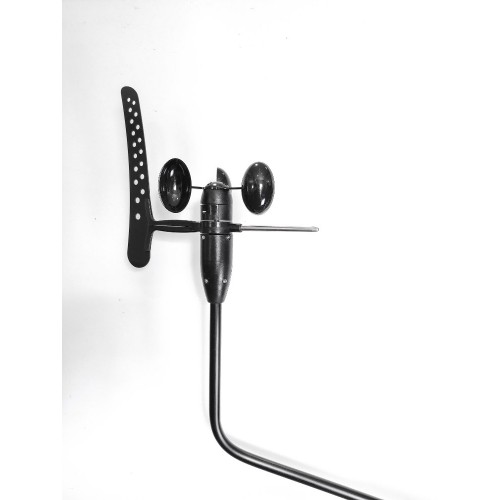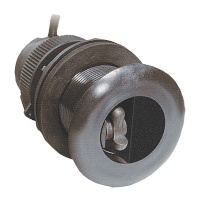 Smart Sensor – Depth, Speed & Temperature Sensor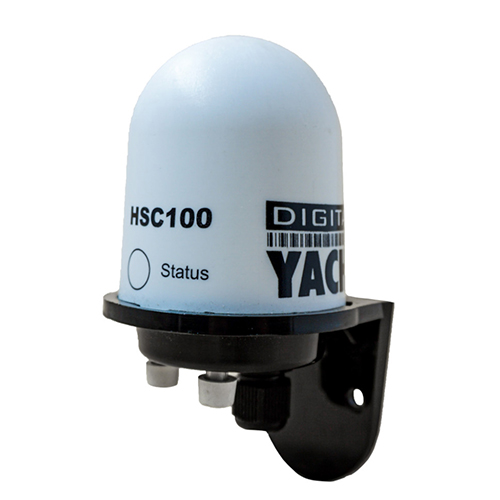 HSC100 – Fluxgate Electronic Compass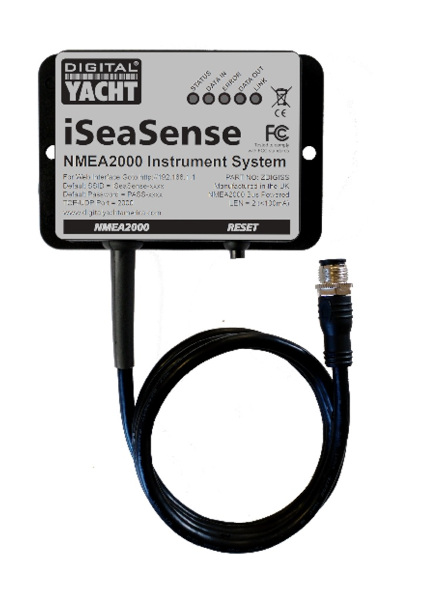 iSeaSense – NMEA 2000 to WiFi Server with instruments display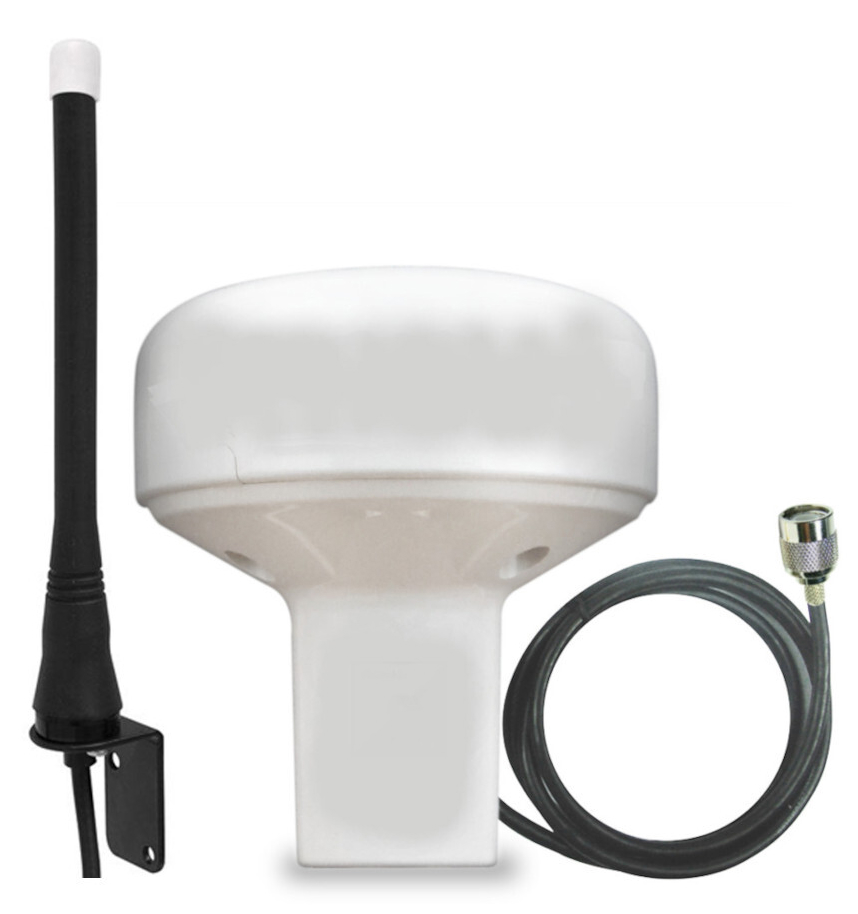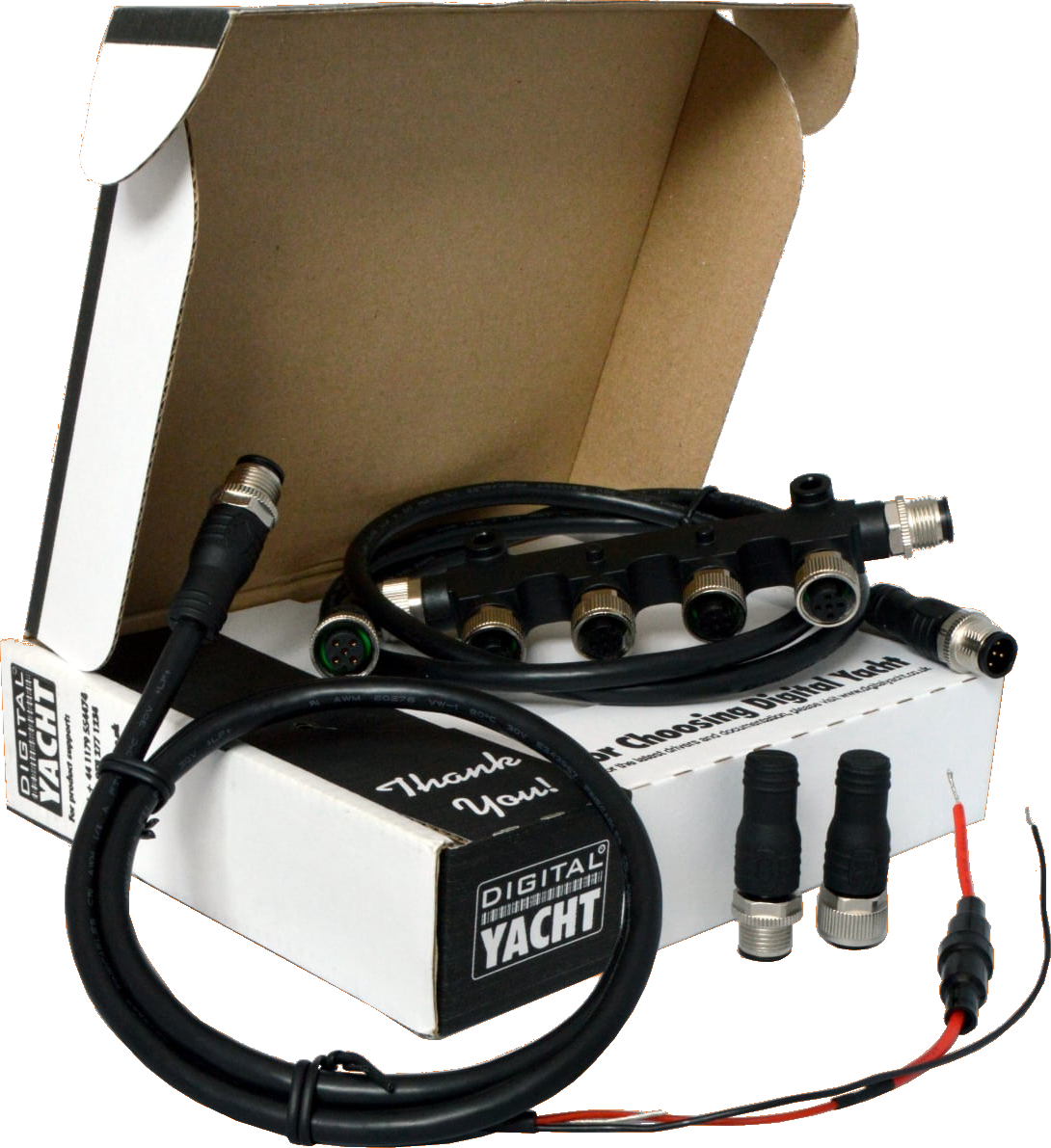 2 x NMEA 2000 Starter Kits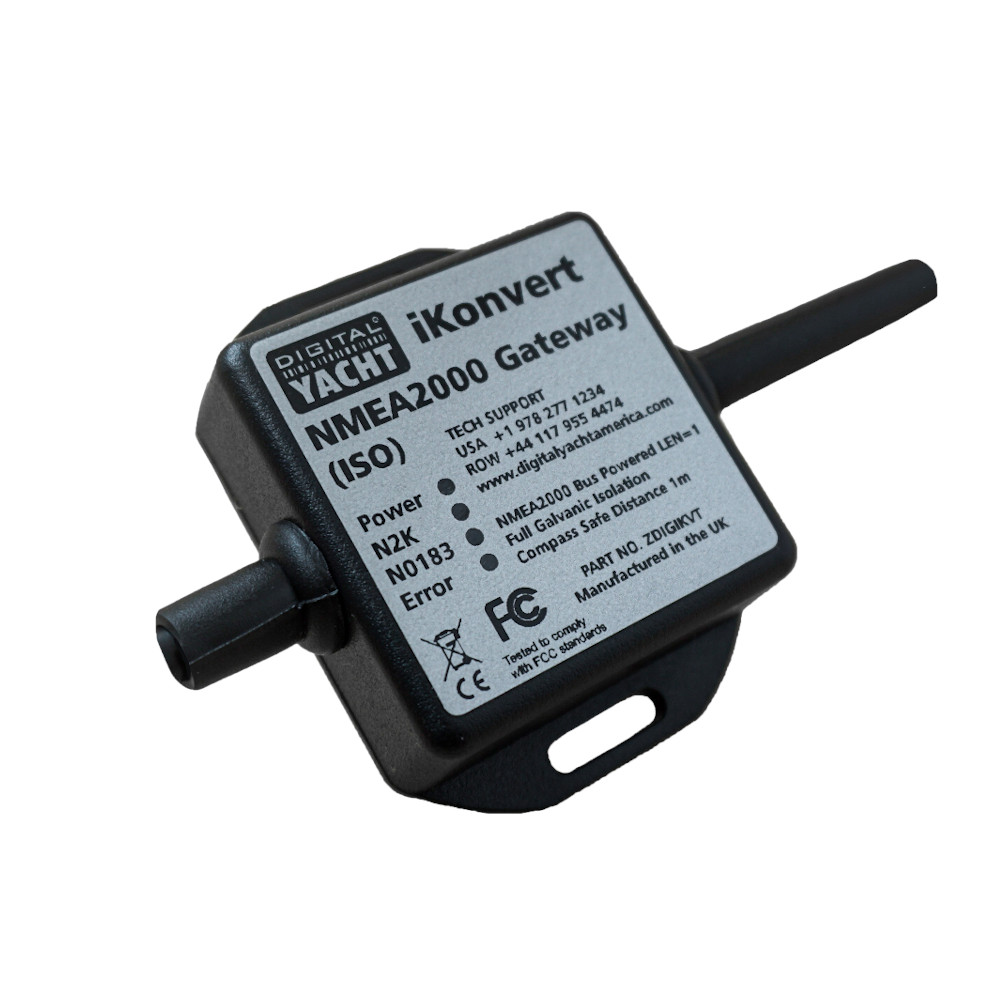 2 x iKonvert for the sensors
This is a sophisticated system with a Class B+ AIS transponder to provide AIS and GPS data as well as instrumentation. This system is expandable using an NMEA2000 backbone and the iSeaSense Wi-Fi Server to wirelessly stream all instruments and AIS data on to navigation apps & software. This Advanced iSeaSense pack therefore has all you need for your marine electronic system on board. It has all the instruments, AIS and cables you need.
In terms of instruments, the WND100 is an ultra tough Wind Transducer with Igildur™ bearings for exceptional life and corrosion resistance. Data transmission is via a super-thin 20m digital cable, where wiring connects it to an NMEA2000/NMEA0183 converter allowing you to connect direct to the NMEA 2000 network.
The Smart Sensor is a depth, speed, temperature and altitude sensor with NMEA2000 that features embedded micro-electronics. It also has a built in attitude sensor for vessel heel and trim measurements and a fast 5Hz update of boat speed. Ideal for speed trimming and superior accuracy.  Trim and heel data is updated at 10Hz. Moreover, this is the market's first Retractable multi- sensor offering depth, speed, altitude and temperature in a single, 51 mm (2") fitting. It also features a Bluetooth interface which is used for transducer calibration.  Highly accurate speed results can be achieved with an advanced calibration app (for iOS and Android) available – compensating for heel too.  Once calibrated, the data is saved and retained in the transducer so there's no need for calibrating individual instruments.
The HSC100 is an accurate fluxgate compass heading data. This remains a fundamental parameter for marine navigation and the HSC100 uses fluxgate technology to deliver heading data for on board systems.
The AIT2500 is an ultra-compact Class B+ AIS Transponder and has NMEA 0183, NMEA 2000 and USB connection. The AIT2500 is complete with GPS (10m cable) and VHF antenna (20m cable). The VHF antenna is a 15cm VHF heliflex antenna, this is specifically tuned to AIS (162MHz) frequencies for optimal performance.
Finally, the Advanced iSeaSense pack includes iSeaSense Wi-Fi interface. It is an easy to fit NMEA 2000 to WiFi server, with a design to allow NMEA 2000 navigation data available for apps on smartphones, tablets, iPads and PCs. Once installed, it creates a local WiFi network for devices to connect.
iSeaSense features an easy-to-use web interface.  No apps are required. Simply open the browser on a connected device, navigate to iSeaSense.local and the optimised touch screen display is ready. You can calibrate the wind sensor via the iSeaSense web interface and also displays true and apparent wind speed and angle plus VMG calculations.
The web interface works on iOS, Android, PC, Linux and MAC – any standard web browser as well as e-ink displays like Kindle and e-book. It supports up to 3 connected devices with super fast 5Hz updates. The data can also be used by 100's of popular navigation apps & software such as Navionics, TZ iBoat, OpenCPN, SailGrib, etc.
All the instruments and AIS have an NMEA 2000 interface so the installation is very easy with our NMEA 2000 starter kit included in the pack. NMEA2000 uses a simple backbone (or sometimes called "trunk") structure which requires terminators at each end of the cabling and then each device can be spurred off using a drop cable. The bus also requires power.  Furthermore, the waterproof connectors throughout ensure maximum reliability and it makes for an easy plug 'n play installation. We supply two NMEA 2000 starter kits with this pack so that you can connect 8 devices.
The wind and compass sensor also come with iKonvert, an NMEA2000 to NMEA0183 converter to facilitate the installation. This therefore allows an easy and flexible install of the NMEA 2000 without the need for cumbersome drop cables. It allows an easy and thin 20m cable to run from the wind and compass sensors to the nearest point on the NMEA 2000 backbone. Thus allowing the iKonvert to connect to it.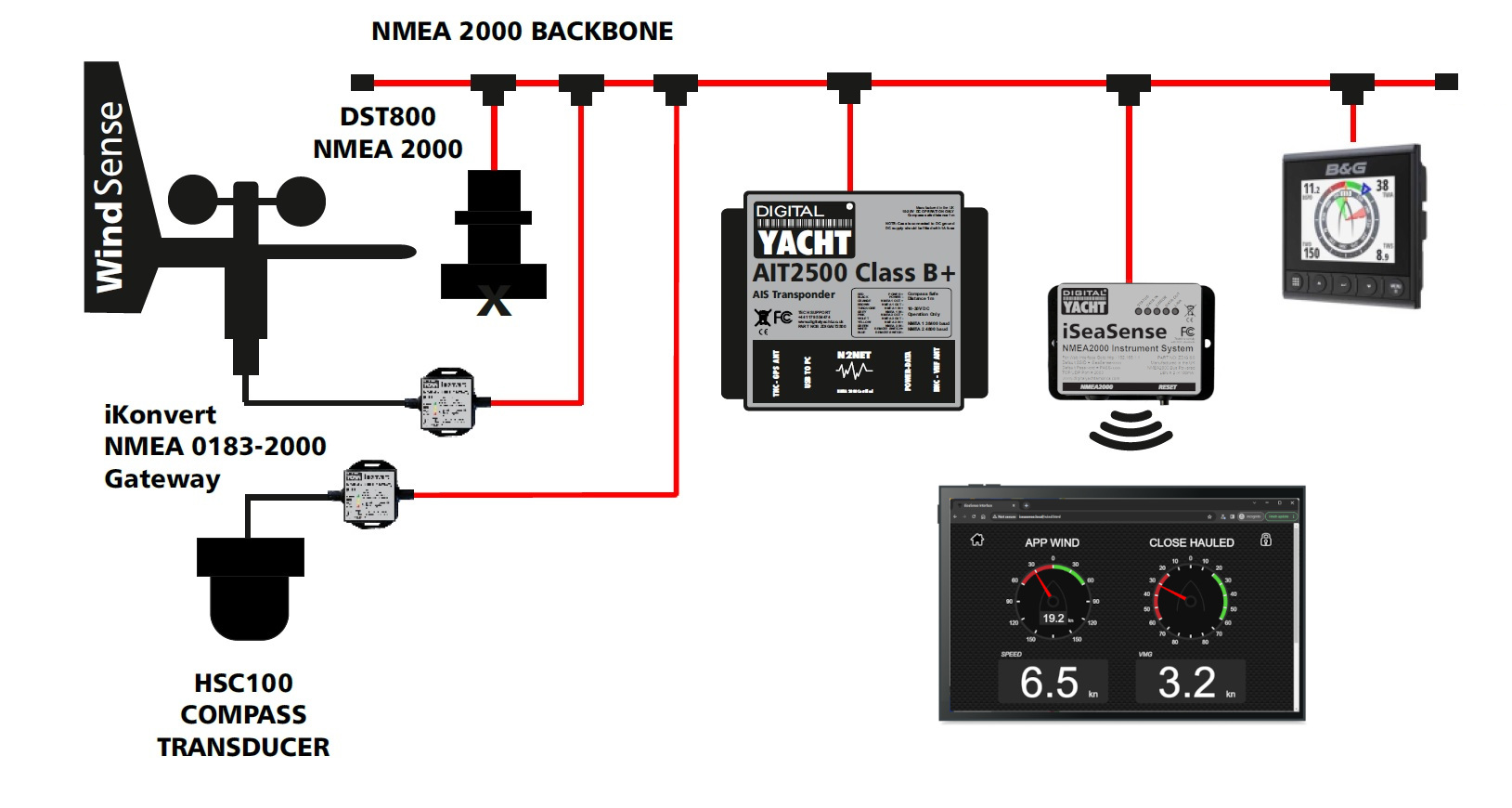 Advanced iSeaSense pack includes a Wind, Depth, Speed, Temperature & electronic Compass sensors. It also includes an AIS transponder, an NMEA 2000 backbone and an NMEA 2000 to WiFi server
All you need for navigation with the Advanced iSeaSense pack
The Wind sensor is a ultra tough Mast Head Unit & supplied with a 20m ultra-thin mast cable
The Smart Sensor is a depth, speed and temperature sensor
The Compass is a high Speed (10Hz) NMEA electronic fluxgate compass sensor
The AIS transponder is the AIT2500.
AIT2500 is supplied with an external GPS (10m cable) & VHF antenna (20m cable)
The pack also includes 2 x NMEA starter kits to easily interconnect all equipment.
Pack also includes iKonvert, NMEA2000/NMEA0183 converter, to facilitate the installation
iSeaSense is an NMEA2000 to WiFi server
Integrated instrument display page server
Configurable display pages for depth, speed, temp, wind, time, GPS, navigation and compass
Self powered from NMEA 2000 backbone
It supports up to 7 wireless devices (UDP & TCP/IP protocol)
Compatible with all popular software & apps like iNavX, TimeZero, Weather 4D, Navionics, SailGrib, NavLink, iSailor, SeaPilot, AquaMap etc
12/24v DC operation with minimal power consumption