Digital Yacht have introduced a new range of Class B+ AIS transponders. Class B+, a new standard, utilises SOTDMA format transmissions which offer a 5W power output (2.5x more powerful than a regular Class B), a guaranteed time slot for transmission in busy traffic areas and faster update rates depending upon the speed of the vessel. It's ideal for ocean sailors requiring the best possible performance and future proof satellite tracking applications. As well as fast power boats and smaller non-mandated commercial vessels. It still inter-operates with existing Class B and Class A systems.
The main VHF antenna can be shared with the VHF, AIS and FM radio due to the patented ZeroLoss VHF-AIS antenna splitter incorporated within the AIT5000. furthermore, it also has a wireless interface for connecting to iPads, smartphones and tablets.
The AIT5000 creates a secure, password protected, local Wi-Fi network which allows AIS and GPS data to be sent to popular iOS and Android apps such as Navionics, iSailor, Weather4D, SailGrib, iNavX, TimeZero and more. These apps offer a detailed overlay of local AIS targets all updated in real-time. Depending upon the app, you can click on a target and can see identity as well as collision avoidance data. This includes CPA (closest point of approach) and TCPA (time to closest point of approach).
The tablet's browser (Safari, Chrome, etc.) provides a simple, embedded web interface for one time programming of the boat's identity and physical dimensions, required of all AIS transponders. Silencing the transmission and setting up wireless parameters such as passwords can also be done via this web interface.
Moreover, if you want the wireless interface to also transmit your NMEA 2000 data, please add our iKonvert which is an NMEA 2000 to NMEA 0183 converter. The wireless interface can connect up to 7 devices.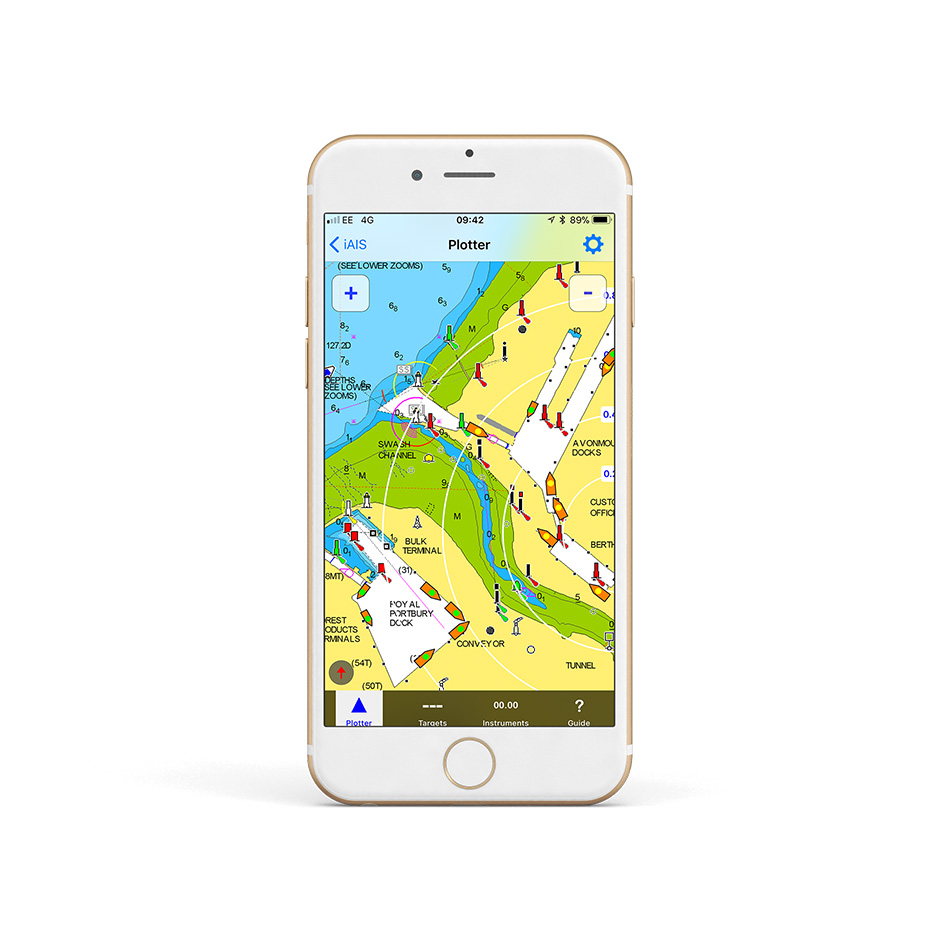 The AIT5000 has the option of an AIS SART alarm which is great for use with personal AIS MOB devices. Now works with the popular Navionics Boating App for Apple iOS and Android to display GPS and AIS data on your Navionics charts.
In order to facilitate the use and configuration of our AIS transponders, our AIT5000 now has a built-in web interface. The configuration of the transponder can be done through a computer, a tablet or even a smartphone and most importantly, no software is require
You can configure the AIT5000 through its own simple web interface, just open your web browser, enter the AIT5000's IP address and you can configure the vessel details (MMSI number, Boat name, etc.), network name, password and even merge the AIS's WiFi to an existing WiFi network on board.  So no complicated programming software or app required. You can even view the received NMEA data in the web browser, for easy fault finding of issues.
Finally, the AIT5000 supports TCP and UDP network protocols for maximum compatibility with apps. If you want to have full bi-directional control of an autopilot, with guaranteed data integrity or you want to be the only person receiving the data, then select TCP. If however, you want to receive the same data on multiple devices, for instance a PC at the chart table and an iPad on deck, then select the UDP broadcast protocol.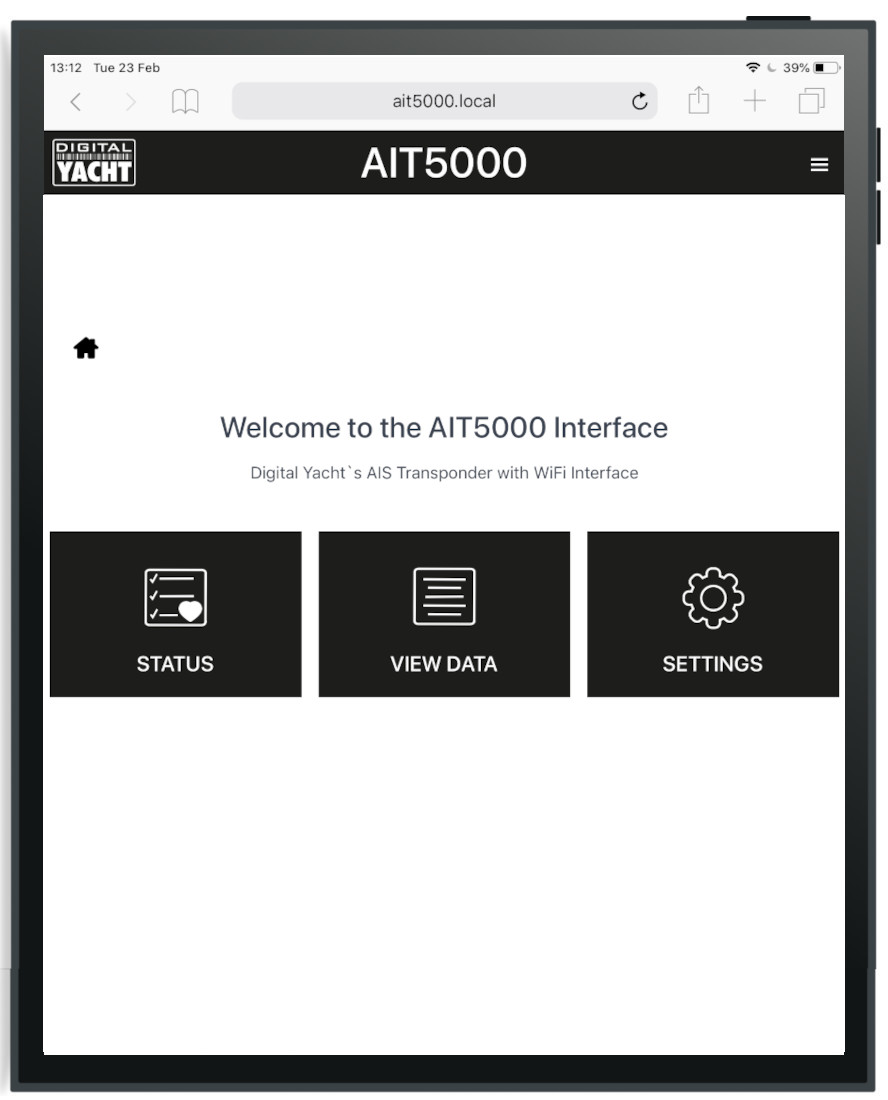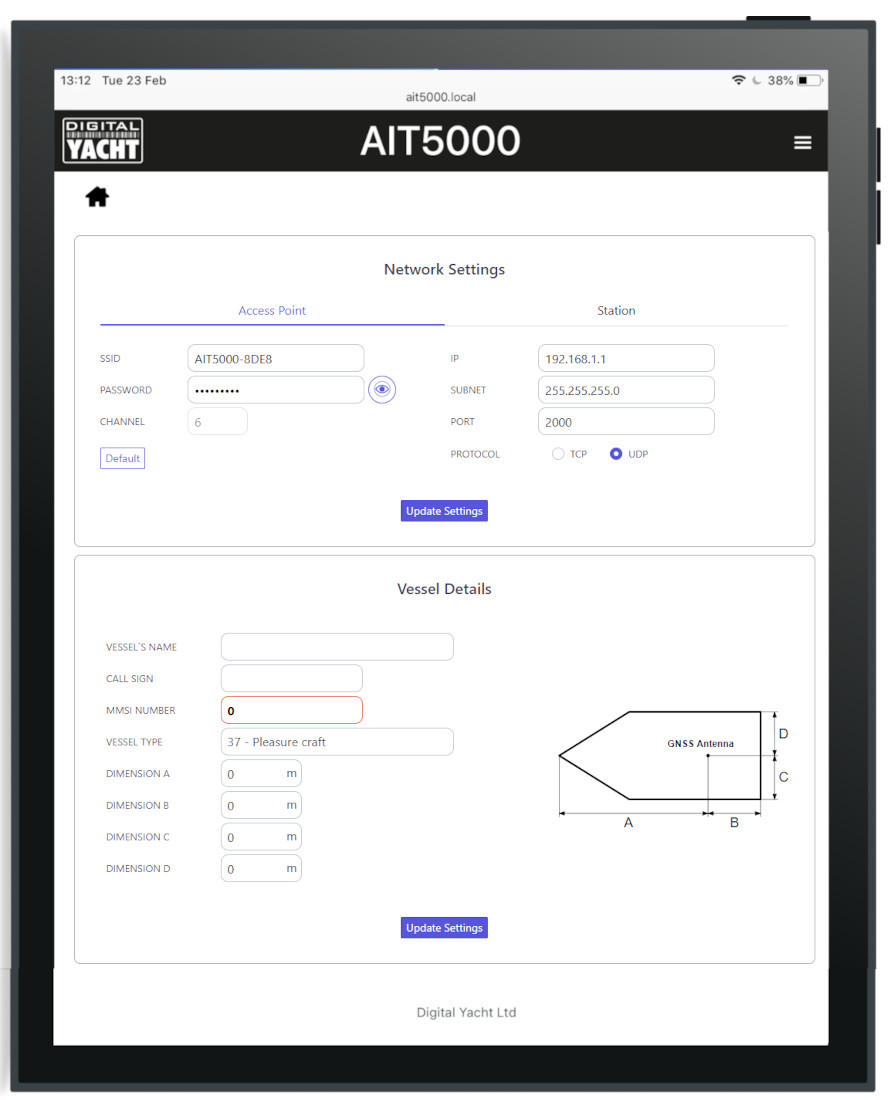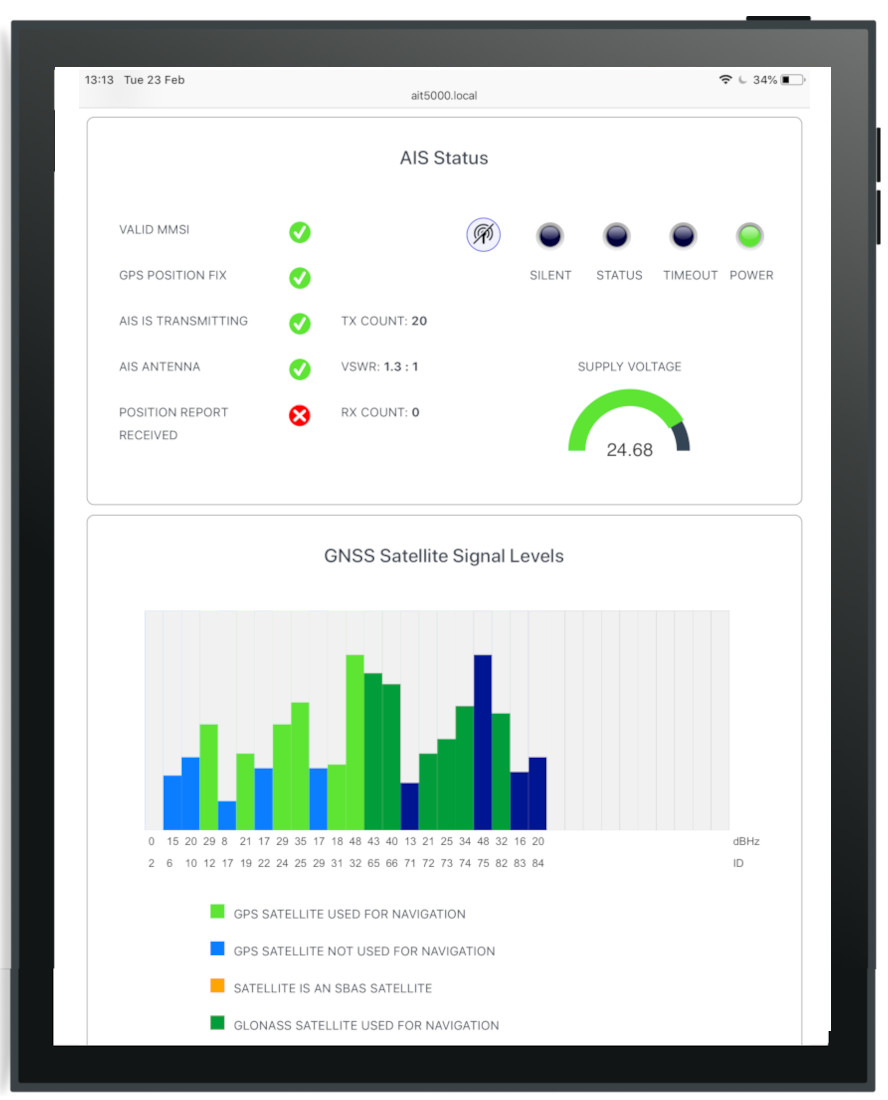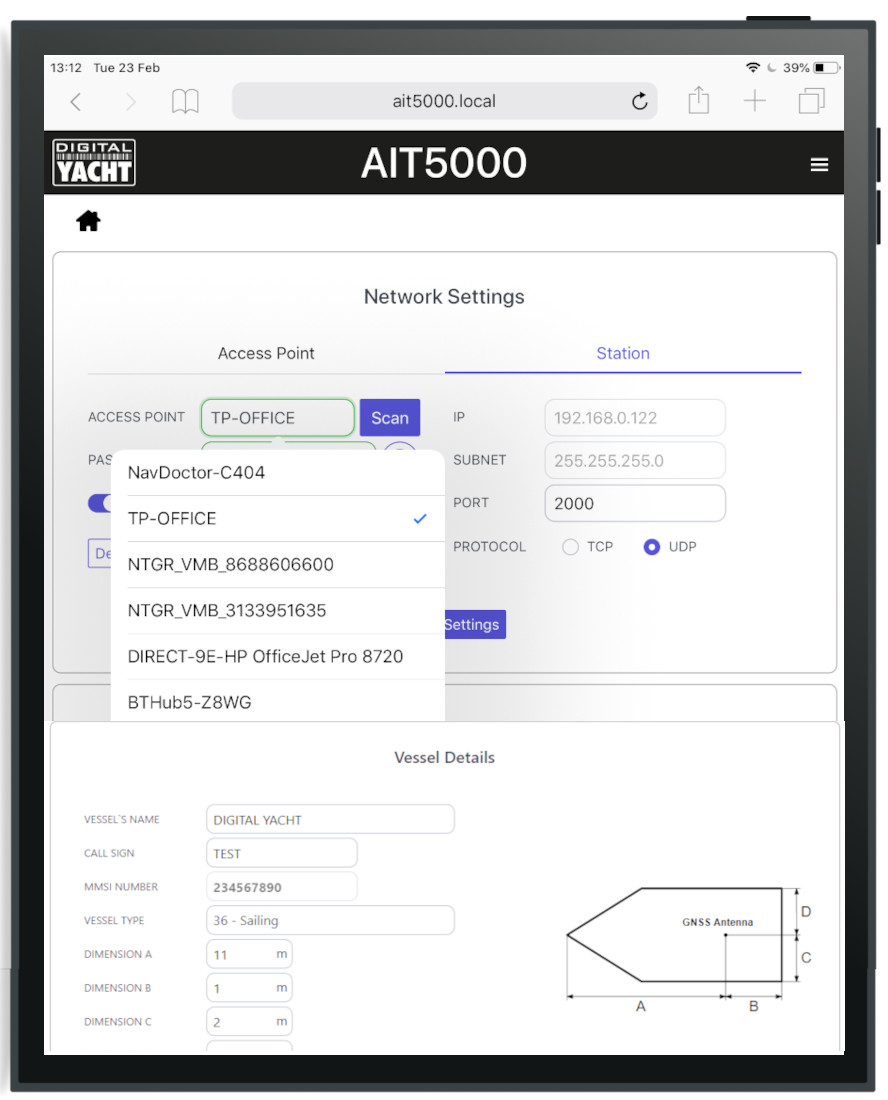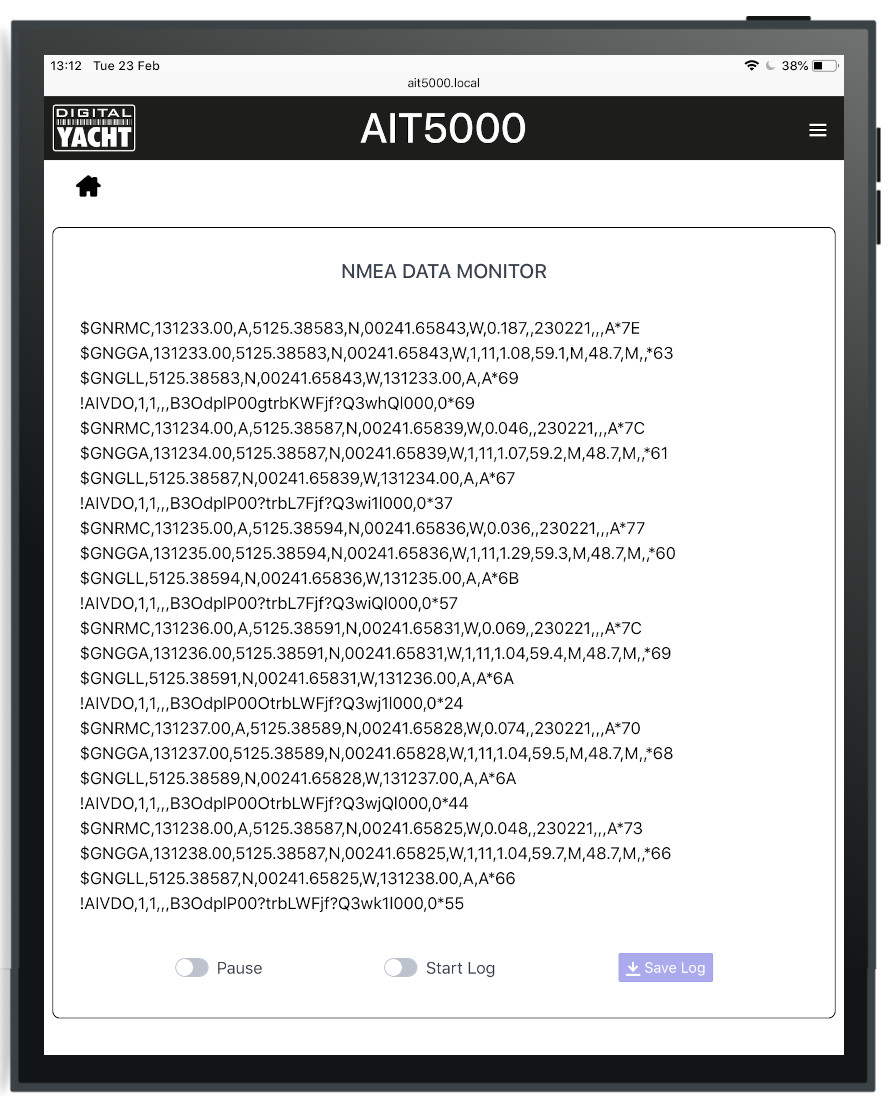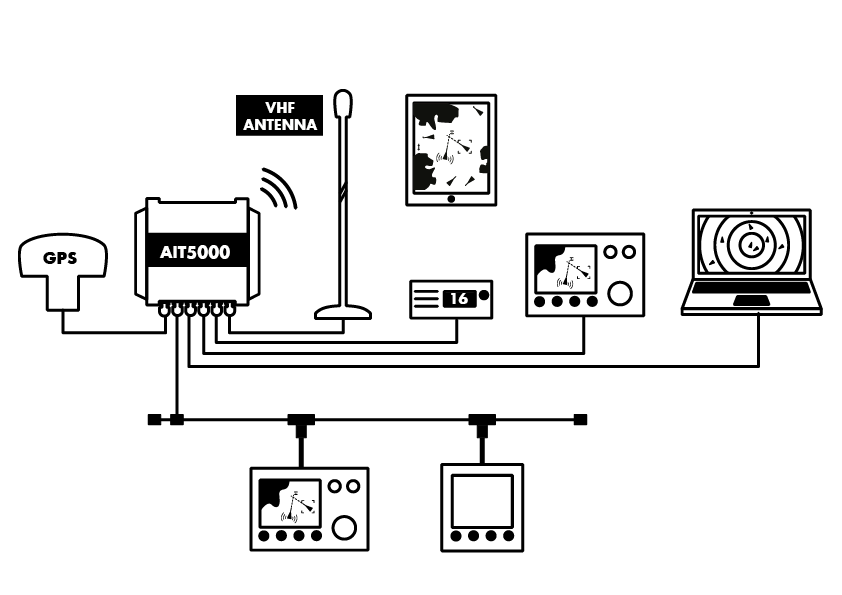 New Class B+ 5W transponder with GPS/GLONASS positioning
Integrated and patented ZeroLoss VHF-AIS antenna splitter (share the VHF antenna)
Multiple NMEA 0183 in/out and multiplex capability
NMEA 2000 connectivity
USB connectivity for PC/MAC
Password protected wireless interface for tablets, smartphones and PC
Web interface for configuration and status monitoring
UDP and TCP/IP protocols supported for up to 7 connected devices
Remote TX silence switch option
Supplied with GPS antenna
The AIS all-in-one Nucleus solution
Alarm option too with AISLifeGuard