As your NMEA 2000 network expands, beyond the 3 device limit of our NMEA 2000 Starter Kit, you can use one of our single T-pieces to add an additional device. With Male > Female > Female connectors, multiple T-Pieces can be plugged together or added to the 4 Way T-piece included to the starter kit. The lower "drop cable" connector is female so that there are no exposed pins when the drop cable is removed.
Digital Yacht can supply NMEA 2000 cables and connectors, to expand your NMEA 2000, to whatever size you need – up to the maximum 50 NMEA 2000 device limit.
The maximum single drop cable length is 6m and the total length of all drop cables must be less than 76m. Please note that all Digital Yacht "Drop Cables" can also be used as Backbone cables and are easily connected together to make any length of backbone cable required.
This image gives you all of the key NMEA 2000 networking rules that, if followed, will ensure your NMEA 2000 network works correctly.
Digital Yacht uses NMEA2000 Micro connectors on cables and connectors which are universal and compatible with other manufacturer's NMEA2000 products.
If you want to find out more about NMEA 2000, please click here.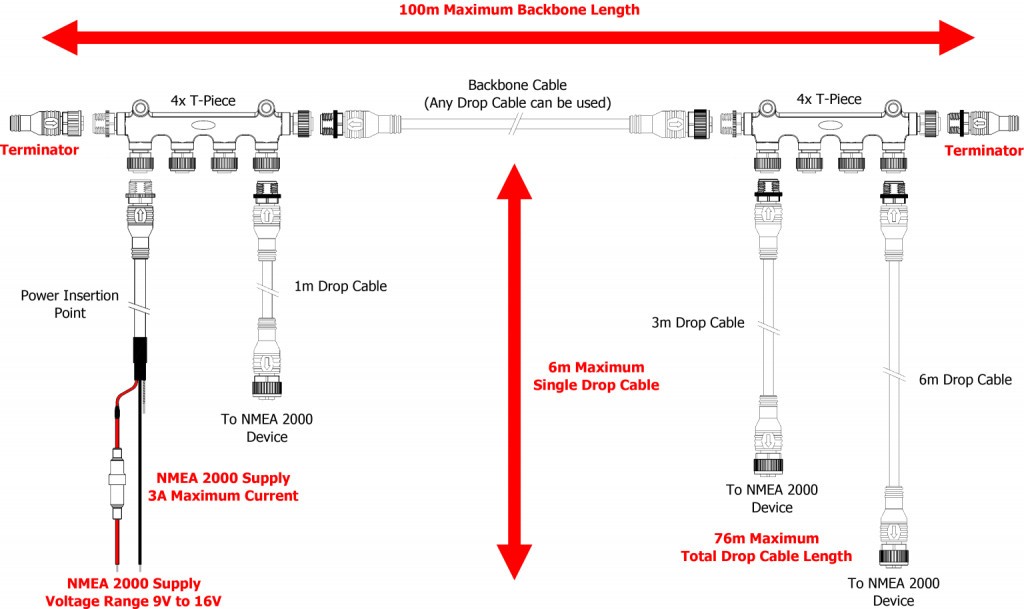 NMEA 2000 Single T-Piece
Standard "Micro C" connectors make it very easy for future network expansion
Metal connectors improve reliability
Waterproof rating IP68